While everyone is focused on the Russo-Ukrainian conflict, unrest is starting to brew worldwide. It's not just the Collective West experiencing domestic turmoil. Growing parts of the Global South are witnessing great social upheavals due to the breakdown in global supply chains, energy shocks, and agricultural shortages brought about by the Russo-Ukraine conflict.
The case of Malawi is peculiar, yet indicative of where things are headed in the short-term. On July 21, 2022 mass protests broke out in Malawi ostensibly against corruption and rising living costs.
Inflation appears to be a fixture of many economies in the COVID-19 era. In response to the pandemic, governments worldwide have used massive spending programs and expansionary monetary policies to jump-start the economies they locked down. The combination of big spending, heavy-handed regulations, and easy money creates the scenario of too much money chasing fewer goods — a recipe for mass inflation.
Malawi has been no exception. Some reports point to Malawi having an inflation rate of 23%. Additionally, economists like Steve Hanke estimate Malawi's inflation to be around an alarming 49% which is more than triple the rate of the official numbers (15.7%) coming from the government.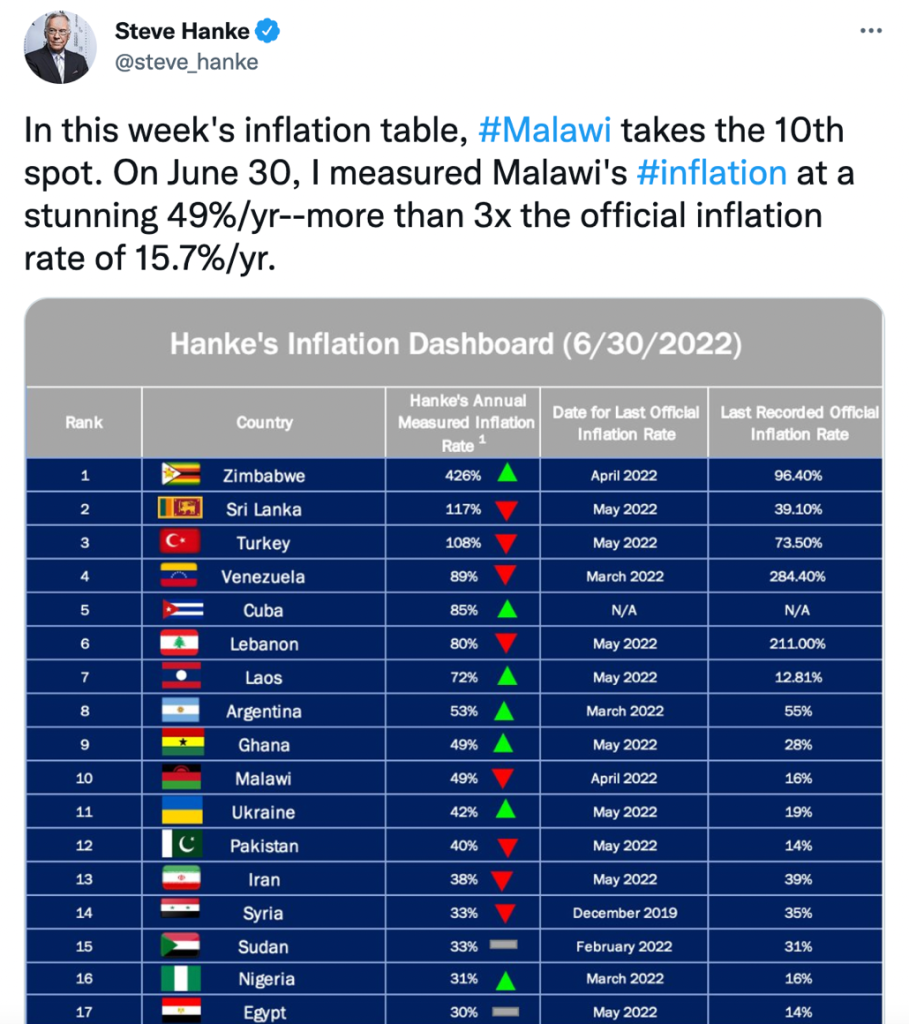 Roughly 76 protesters were brought to court on July 22 for charges of illegal assembly and inciting violence. Earlier on July 20, these protesters were arrested when they demonstrated against the rising cost of living. These protesters pushed the envelope by clashing with the police and looting stores in the capital of Lilongwe.
Matters escalated following the High Court of Malawi's decision to grant an injunction to business owners who were calling for the protests to be curtailed out of fear that their property would be severely damaged.
Protesters proceeded to march and began blocking roads, damaging shops, throwing stones at cars, and wreaking general havoc. The violent turn of these protests prompted police to fire tear gas and arrest dozens of protesters who were engaged in violent acts.
Among the individuals arrested were four leaders of the Human Rights Ambassadors group, who coordinated the protests.
A combination of corruption and a deteriorating economic situation will likely contribute to further unrest in Malawi and a number of other African countries. Given the remarkable shakeup of the present world order that is currently taking place, many countries will be facing political upheavals and potential regime change scenarios. No one said that systemic transitions would go down smoothly.
If the economic situation doesn't improve in Malawi, its government could be the next in line to fall. From there, Malawi's hypothetical government collapse could potentially kick off a domino effect of government collapse across Sub-Saharan Africa.
Make no mistake about it, the next decade will be turbulent for many countries across the globe.