Imagine a scenario where Russia's invasion of Ukraine had occurred in a world without the deep scars of the War on Terror. Putin's violation of sovereign territory and destruction of a nation state would exist in a near vacuum of interstate conflict; setting aside various border conflicts and 1990s NATO interventions. While the term 'appeaser' has returned to everyday parlance in describing those opposed to supporting Ukraine's fight, the label of 'skeptic' is far more accurate. Those opposed to offering a blank check of support for the Ukrainians are not all cheerleading for a Russian victory, but, rightly, concerned about vast tides of blood and treasure finding their way into another forever-war with ill-defined objectives and mission creep.
Afghanistan: The Disaster of America's Longest War
The War in Afghanistan lasted for the best part of twenty years, which is longer than the total American involvement in World War I, World War II, and Vietnam combined, and modern wars are exceptionally expensive. In this context, expensive equates to approximately $2.3 trillion spent in total across the duration of the war. Or, $300 million spent every single day; and neither of those numbers, of course, account for the cost in human life. Almost 2,500 American servicemen and nearly 4,000 American contractors were killed in Afghanistan, with another 20,000 soldiers wounded – a number that includes many permanent, life-altering disabilities. Around 66,000 Afghan soldiers were killed, about 50,000 civilians, and 51,000 opposition forces.
Keep in mind that this conflict started with a rather narrow objective: to topple a government friendly to enemies of the United States and find those purportedly responsible for 9/11. The CIA quickly realized that briefcases loaded with cash were the best method of ejecting the Taliban from power, meaning bribery proved more effective than violence. Meanwhile, the leadership of al Qaeda fled the country, and a massive power vacuum emerged in Kabul, which is when the reconstruction of Afghanistan in America's image became the new mission. President Bush would invoke powerful historical memories of the post-World War II world, arguing that, 'by helping to build an Afghanistan that is free from this evil and is a better place in which to live, we are working in the best traditions of George Marshall.' This radical departure from the original mission occurred in just seven months.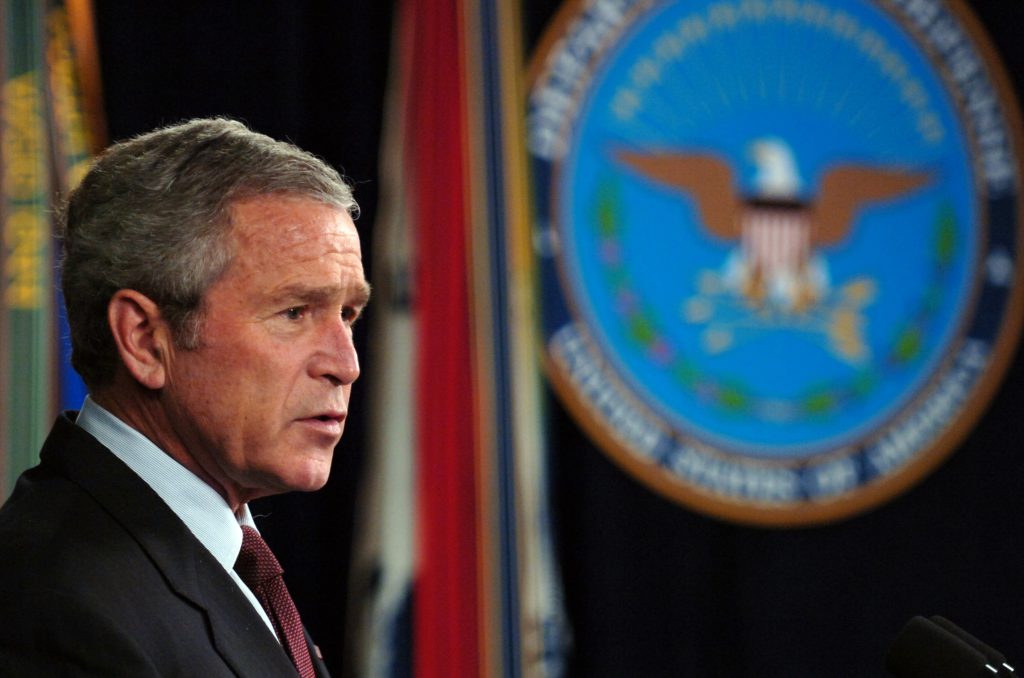 Legally, this was all possible thanks to the incredibly broad Authorization for Use of Military Force (AUMF) passed in the wake of 9/11, which gave the president authority 'to use all necessary and appropriate force against those nations, organizations, or persons he determines planned, authorized, committed, or aided the terrorist attacks that occurred on September 11, 2001, or harbored such organizations or persons, in order to prevent any future acts of international terrorism against the United States by such nations, organizations or persons.' The AUMF is still in force today, and was even cited by the Trump administration as providing the authority for the assassination of Iranian General Suleimani in 2020. It is a license for unbridled militarism.
By the summer of 2006, violence was spiraling out of control in Afghanistan. In response, western coalition forces upped their own attacks, resulting in a catastrophic loss of civilian life that culminated in the slaughter of over 180 people by an AC-130 gunship on a single night in latter part of the year. General Stanley McChrystal said, 'We must avoid the trap of winning tactical victories — but suffering strategic defeats — by causing civilian casualties or excessive damage and thus alienating the people.' It would take more than another decade of conflict in Afghanistan for the reality of this strategic defeat to transpire in the starkest possible terms. Despite changes in presidents, commanding officers, surges and drawdowns, America finally withdrew all its troops in 2021.
This was not done against a backdrop of victory, with a strong successful government in Kabul surrounded by exciting economic prospects and legitimate domestic military security – what you might expect after two decades of intervention from the most politically, economically, and militarily powerful country on Earth – but, instead, the complete collapse of a nation. A Taliban resurgence had rapidly engulfed Afghanistan, removed the western-backed government, and chaos ensued. The few American soldiers left on the ground were charged with defending the capital's airport, which was repeatedly overrun by would-be refugees, while desperate Afghans clung to escaping aircraft only to tragically fall to their deaths, and a suicide bombing killed another 13 Americans and around 200 civilians. Two decades of blood, treasure, and constant mission-creep were all for nothing.
Iraq: A Costly Decision
While the War in Afghanistan is a dramatic and nightmarish tale, it played out alongside another tremendously costly war – the invasion of Iraq. The American attack on Iraq began on March 20, 2003 and lasted for nearly nine years, then the US would return to Iraq in 2014 until 2021 to intervene against the Islamic State, and, together, this produced a price tag of almost $2 trillion, or about $8000 per taxpayer. The War in Iraq proved deadlier than Afghanistan for American troops, with over 4,500 soldiers and almost 3,800 contractors killed. Another 32,000 American soldiers were maimed in the fighting, which again included many life-changing consequences. In terms of civilian loss of life, ORB International estimated that anywhere from 733,158 to 1,446,063 people were killed because of the violence stemming from the invasion.
The decision to bring war to Iraq proved controversial from the start, yet the chess pieces were moving in this direction far earlier than most realize. In the hours after the 9/11 attacks, Donald Rumsfeld, then Secretary of Defense, was already angling to align Saddam Hussein into a position of responsibility, with Richard Perle, another neocon advisor to the Bush White House, seeking to cast Iraq as a 'state sponsor' of terrorism. Then, during a national address on the evening of 9/11, Bush would plant the political seed that would foretell an endless future of military intervention: 'We will make no distinction between the terrorists who committed these acts and those who harbor them.'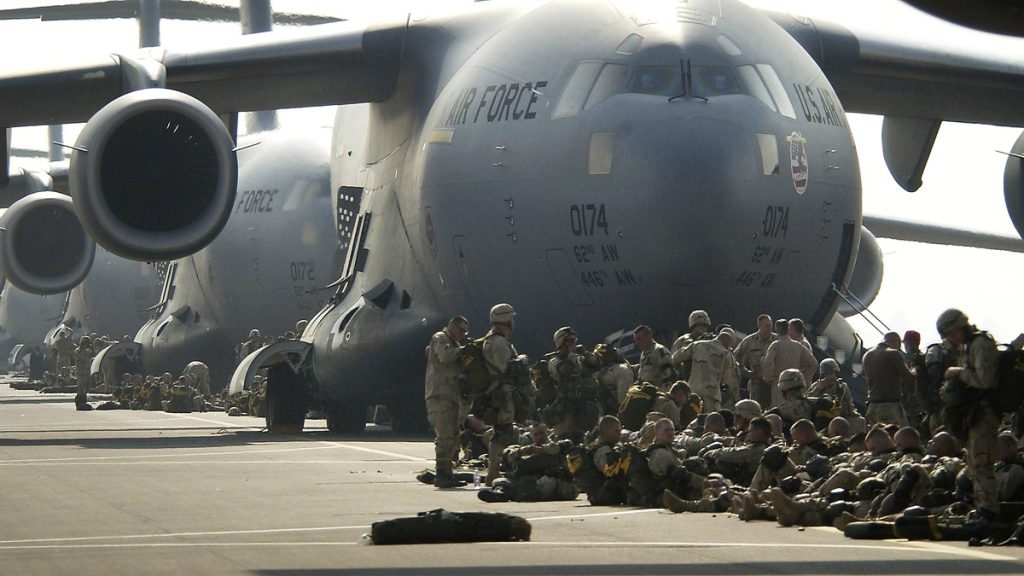 The cornerstone of the justification for the invasion was the claim that Iraq possessed weapons of mass destruction, or WMDs for short. This rhetorical instrument would haunt American foreign policy for decades to come, long after Bush had left the White House, transcend party lines, and still finds its way into contemporary discussions on global problems. However, no WMDs were ever found in Iraq. It would become clear that key figures within the Bush administration had manipulated and cherry-picked intelligence to fit their chosen policy – war; which is a total reversal of how the policy-making process is supposed to work. The key source, codenamed 'Curveball,' of the information on Saddam's supposed program of WMDs, was eventually exposed as a disgruntled Iraqi chemical engineer who admitted: 'I had the chance to fabricate something to topple the regime.' The British public, meanwhile, was told that Saddam had weapon systems that could deliver chemical and biological weapons within 45 minutes, and other stories concerning deliveries of 'high-strength aluminum tubes' and 'yellow cake' uranium, from Niger to Iraq, dominated international headlines.
All of this was conveniently accompanied by a biological weapons' release within the United States in the form of an Anthrax attack that killed five and injured seventeen. This incident is often forgotten, ill-remembered, or entirely unknown by most Americans, but it served to create mass-panic within the entire Western world, with 'food terrorism,' stealthy attacks on salad bars and buffets, beginning to enter the popular imagination, and helped facilitate the Iraq War. The strain of anthrax used in these attacks was identical to those in a research laboratory at Fort Detrick, Maryland, and the primary suspect, who, curiously, was trying to develop an anthrax vaccine, would reportedly commit suicide prior to being formally charged with responsibility.
The invasion of Iraq, officially justified on the basis of preventing future, similar attacks, was an unequivocal military success – for about three weeks. Saddam's government and military completely collapsed within 21 days, but this meant the 'coalition of the willing' was then charged with governing and securing a nation one and half times the size of Arizona. This may have been possible with the assistance of acquiescent Iraqi political and military forces, yet the new, practically colonial, governing forces in Iraq, the Coalition Provisional Authority, immediately disbanded the Iraqi army and outlawed the participation of former Ba'ath Party members in any new systems of governance. This meant large numbers of armed men and influential leaders were now persona non-grata with the new ruling American commissars, which led to the rise of an extremely violent insurgency, the disintegration of regional order, the ascendency of Iran, and materialization of the Islamic State of Iraq and Syria (ISIS).
Enter the Russians
Consider, then, the geopolitical milieu in which Russia's attack on Ukraine has occurred. Western publics have endured two decades of lies, deceptions, and manipulations, resulting in abject human, political, military, economic, and moral devastation. In this context, it is simply ridiculous to expect unrelenting support for yet another conflict – regardless of how illegitimate and devastating Putin's invasion of Ukraine has proven.
Plus, the qualitative difference between the wars in Iraq and Afghanistan, versus the war in Ukraine, is the potential for nuclear escalation. Astute observers have explained, ad nauseum, that there is a very real risk of sparking World War III with Western intervention in Ukraine. The elasticity of the nuclear taboo, which argues thermonuclear deployment is politically unfeasible in practically all scenarios, is facing its greatest, and most dangerous, test. When this nightmarish possibility is considered in tandem with an already raw recent history of violence and militaristic failure, it is entirely unsurprising that large numbers of people are immensely skeptical of any degree of involvement in a war between Ukraine and Russia. Even if nuclear weapons are not deployed, there has been enough fighting around nuclear power plants to threaten a similarly disastrous ending to the war.
And this war is already providing many real reasons to offer skepticism versus the prospect of continuous, unabated supported for Ukraine. On a military level, the Ukrainian military now stands accused of using antipersonnel mines, that pose a significant ongoing risk to civilian populations long after conflicts come to an end, despite the nation being a party to the 1997 Mine Ban Treaty. On a political level, Zelensky's government has, quite literally, banned the existence of the largest opposition party in Ukraine, and banned the practices of the Orthodox Church. On an economic level, the US government's assistance is now required to provide education and healthcare to Ukrainian citizens. When considered alongside the purported "liberal" values of American hegemony, these empirical realities should cast significant degrees of doubt on exactly what is going here. And, of course, none of this even touches upon the, admittedly, extremely corrupt nature of Ukrainian government, which is still facing corruption scandals as its domestic elites seek to milk the country dry despite its very existence sitting on a knife's edge.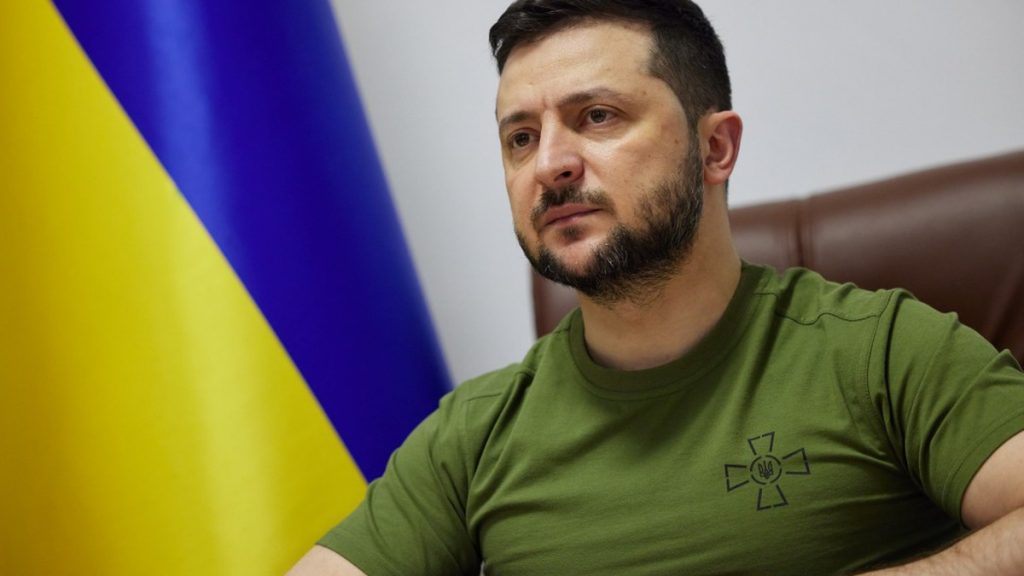 None of this, of course, excuses or legitimizes Russia's invasion of Ukraine. For the record, the decision to invade Ukraine, to use offensive militarism to achieve a political objective, was entirely wrong. In fact, for Putin, starting a war was just about the absolute worst response to NATO expansion, as it both justified the post-Cold War enlargement and allowed the transnational security structure to expand even further with the inclusion of both Sweden and Finland. The domestic political situation in Russia has rapidly deteriorated since the war began, with anti-war protesters facing arrests, fines, and physical abuse, while Putin's partial mobilization orders also triggered mass detentions in response to resistance; particularly in rural Russia – usually far removed from the whims of the Kremlin. Within Ukraine, Russian forces have used indiscriminate attacks, destroyed civilian infrastructure, deployed cluster munitions that eviscerate noncombatants, and even fired directly on obviously civilian vehicles attempting to flee the chaos and British journalists trying to cover the war.
Where do we go from here?
Simply put, this is a total disaster on all sides. Nobody truly wins a war. The immediate priority must be an end to the human suffering in a negotiated settlement. American generals have admitted that it is practically impossible for Ukraine to retake Crimea, and that the war in the east of the country is unwinnable. China has released something akin to a peace plan, but it lacks the specifics to have any immediate impact and appears to try and put Xi Jinping's government into a position to take advantage of the crisis.
Meanwhile, Americans, average everyday working American citizens, are having trouble affording a dozen eggs. Indeed, inflation is still rampant and seemingly out of control, despite attempts of the Federal Reserve to raise interest rates, and gas prices are heading upwards once again. Keep in mind that this is all occurring in a country that has not raised its federal minimum wage above $7.25 an hour since 2009 and is experiencing record-highs in rents and house prices. A meager few thousand dollars were tossed at Americans during the COVID crisis, but this was meant more as a quick injection of cash via proxy into corporate American than any structural support for the population.
Decades of reckless spending, on everything but the American people, has caused possibly irreparable damage to the American economy. And America really is a country in a state of domestic crisis. Political polarization has crushed any hopes that things may change, drug and alcohol abuse is completely out of control, over half a million people are homeless, and, to really put the cherry on top, somehow China has a better approval rating than Congress among Americans. The American President and Congress have more than enough problems on their own doorstep, but, as C. Wright Mills so aptly commented in 1956, 'domestic politics have become important mainly as ways of retaining power at home in order to exert abroad the power of the national establishment.'
If you were to include all interventions of the 'War on Terror' in cost calculations, including and beyond those two high profile incidents in Iraq and Afghanistan, meaning Syria, Pakistan and other locales, you would reach an estimated total cost of $6.4 trillion. And now, citizens of both the US and UK, the arbiters of the War on Terror, face yet more costs for this war in Ukraine; that currently amounts to over $113 billion in American assistance alone.
Instead of tarring all those opposed to intervening in this conflict with the labels of 'appeaser,' 'apologist,' 'Putin's puppet,' and the like, it makes much more sense to take the time to evaluate precisely why those people hold such views. The western world has been politically and economically raped by elites for over two decades in its imperial quest to supposedly rid the world of terrorism. This was nothing less than a project of empire, that only worked out positively for transnational corporations – the true masters of our politics. Indeed, if Western governments wish to understand why they face significant levels of opposition to their intervention in the war in Ukraine, they only need examine their own recent track record of military disaster in Iraq and Afghanistan. Unless western governments start acting responsibly and democratically, in the interests in their own people, they should only expect the levels of skepticism and resistance to continue to mount.